Granola Bars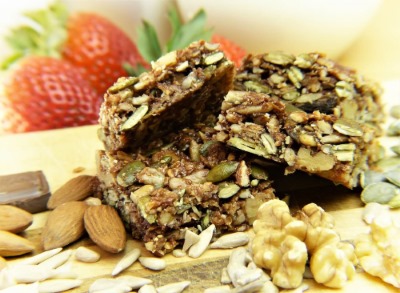 Ideal as a snack on their own, crumbled into yogurt for a delicious dessert or even eaten as a cereal, these bars are quick and easy to make and are packed with nutrients.
Ingredients:
• 125g butter
• 70g honey or sugar
• 1 tablespoon maple syrup
• 400g oats
• 75g raisins
• 40g chopped nuts
Instructions:
1. Grease an 8" cake tin.
2. Put the butter, sugar or honey and the maple syrup into a pan and heat gently, stirring well until the mixture is combined.
3. Take the pan off the heat then stir the oats into the mix. Add the nuts and raisins and mix.
4. Pour the mixture into the cake tin and press down.
5. Bake in a 180 degree oven for half an hour.
6. Leave to cool for 30 mins then put in the fridge overnight.
7. Cut into bars.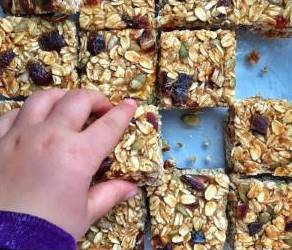 To make this recipe dairy free, use a plant-based margarine, to make it low sugar use a sugar-free maple syrup and for a nut-free version, simply leave the nuts out of the recipe.
Learn more about food allergies
Nut free nuts
Our family used to love nuts as a snack, but with Jessica's newly diagnosed allergy we've had to ban them from the house. Then I found this recipe which is the perfect substitute and as it contains no dairy it works for Spencer too.
Ingredients:
• 1 tin of chickpeas
• 3 tablespoons of olive oil
• 1 tablespoon of chopped rosemary
• 1 minced clove of garlic
• Salt to taste
Instructions:
1. Rinse the chickpeas and pat them dry.
2. Heat up the oil in a frying pan for 3 minutes.
3. Put the chickpeas in the pan and cook them for 12-15 minutes, stirring occasionally.
4. Once the chickpeas have browned, remove them from the pan and put them on a paper towel to remove any excess oil.
5. Add the garlic to the frying pan while it is still warm and cook for 2 minutes. Don't allow it to brown.
6. Add the rosemary to the pan and then add the chickpeas.
7. Add salt to taste.
Alternatively, if you want your chickpeas crunchier and even more like nuts, instead of frying them in a pan, roast them for half an hour in a 180-degree oven.
Hopefully, the new baby won't have a completely different kind of food allergy to keep us on our toes!