I am so glad that I wasn't pregnant back in the 1980s! I was looking at some photos of my mum when she was expecting me and I was just appalled by the hideous maternity wear she had to put up with. Honestly, I don't know how women managed back then! On every photo, she was wearing one awful outfit after another. Dresses that looked like tablecloths, enormous dungarees and really unflattering skirts and tops. They must have been designed by a man!
Third Time Around
It made me feel really lucky that pregnant women today have so many great choices when it comes to maternity wear. Whether we shop online or whether we go out to local shops, we can easily find something to suit every occasion. From casual jeans and t-shirts to smart office wear, and even evening dresses for going somewhere special, I just need to browse the internet or wander down to the high street and I can find something that flatters and fits without looking like I'm wearing a tent!
Now that I'm having my third baby, I've found that I started showing much sooner than I did with my first. When I was pregnant with Spencer, I didn't show at all until 7 months, and everyone was really surprised when I told them I was expecting. I could wear my own clothes right up until the last few weeks when I was having him, but things were a little different when I was having Jessica. I had to start wearing maternity wear at about 23 weeks and by the time she was delivered, I was the size of a small house!
This time around, I couldn't believe how soon I needed to start wearing maternity pants! I realized at 17 weeks after trying to shoehorn my growing bump into my size 10 jeans that something would have to give. Comfort had to come first, but I really didn't want to sacrifice on style. Rather foolishly, I had given away all of my maternity wear from when I was pregnant with Jessica to charity since I didn't think I would be having any more babies, so I had to start my maternity wardrobe from scratch all over again.
Finding Fabulous Maternity Fashion
Of course, which woman doesn't love shopping for clothes? But it's not quite as much fun when you're pregnant. Although there's plenty of options to choose from, not everything flatters and not everything is comfortable either. I tried on several different styles of maternity jeans – ones that have a stretchy panel at the front, ones that have adjustable sides, and ones that are designed to sit under your bump and decided that only the ones with adjustable sides were really stylish enough to wear every day. Some of the tops were so short that by week 28 your bump would be hanging out, and some dresses were so tight that they would look unflattering on someone who wasn't pregnant, let alone ready to pop!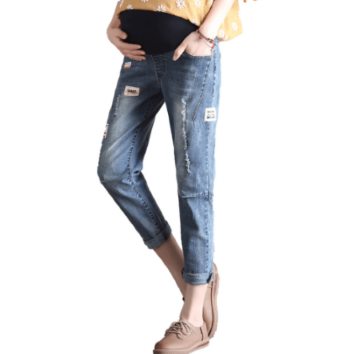 You can also chek my other fashion posts:
How to pick official outfit when you're pregnant
My Top Maternity Wear Tips
It made me think that I should share my top tips for pregnant women who want to look good but who don't want to sacrifice comfort and who don't want to spend a fortune at the same time. So, here they are!
Pregnancy is an expensive time, with all of the baby things to buy, so finding maternity wear that looks good but doesn't cost the Earth is essential. For affordable options, I've found that New Look and Next on the high street have good ranges, while online, Vertbaudet and Asos are two of the best.
Don't be tempted to go baggy all over. It can be tempting to cover everything up when your bump starts to grow, but there's no need to drown yourself in oversized jumpers. Instead, go for a roomy body, but tight fitting sleeves or slim legged trousers so you don't look completely shapeless.
Wear low necklines. Even if you used to be flat chested, you'll find that you have new curves when you're pregnant. Flaunt it and draw attention to your assets by wearing scoop neck and V neck tops that reveal a little cleavage. It'll make you look good and feel good.
Don't be afraid of color. As you get bigger, you often feel that dark colors will make you look thinner, but there's no shame in being pregnant so flaunt it! Wear bright shades and pretty patterns. It'll make you feel happier and give your mood a boost.
Accessorize! Even a plain outfit will always look better with some lovely jewelry, a pretty scarf or a gorgeous handbag. It'll draw attention away from the bits you'd rather nobody was focusing on, and help you to feel beautiful too.