I am so glad that I wasn't pregnant back in the 1980s! I was looking at some photos of my mum when she was expecting me and I was just appalled by the hideous maternity wear she had to put up with. Honestly, I don't know how women managed back then! On every photo she was wearing one awful outfit after another. Dresses that looked like tablecloths, enormous dungarees and really unflattering skirts and tops. They must have been designed by a man!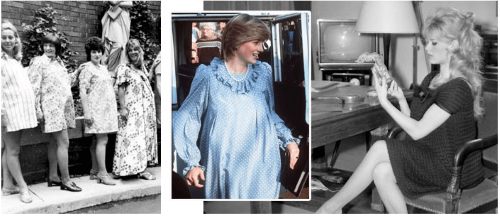 Third Time Around
It made me feel really lucky that pregnant women today have so many great choices when it comes to maternity wear. Whether we shop online or whether we go out to local shops, we can easily find something to suit every occasion. From casual jeans and t shirts to smart office wear, and even evening dresses for going somewhere special, I just need to browse the internet or wander down to the high street and I can find something that flatters and fits without looking like I'm wearing a tent!

---
Fancy pregnancy
I'll admit (and I hope none of my husband's colleagues are reading this), I've never really enjoyed going to his work does. Every year the Christmas party has been a bit of a challenge – it's never easy being the wife of the boss, but when you're pregnant it's even harder to create the right impression. When Christmas came around, I wasn't too keen on going to the party, to be honest.
The last two pregnancies I was so small my bump didn't show in December, but this time I had a definitely bulge that wasn't going to fit in any of my beautiful evening dresses. It was time to do some serious shopping to find something flattering yet stylish so I could create the right impression with his work team.
In the end, after several exhausting days of trawling the internet and hiking up and down the high street with two whining kids in tow, I finally found exactly what I'd been looking for – a little black dress that was sophisticated but forgiving, but which could easily be dressed up with some nice heels, some classy jewellery and a great hairdo!
If you're suffering from a similar problem and are wondering what you can possibly wear to an important event when you're pregnant, here are my top tips to finding the perfect outfit.
---
As busy parents, it isn't easy to get enough time as a couple to enjoy romantic activities and go out on date nights. Matthew's parents moved down South a couple of years ago, so they aren't close enough to babysit the little ones, and my dad isn't really well enough to care for the kids for any length of time on his own. As for my sister, well, she has three kids of her own, so taking on another two just so that we can take a break is a big ask. However, she made an exception last year so that we could celebrate our tenth wedding anniversary in style.
Recreating Our Proposal
For my 20th birthday, Matthew had taken me to Paris for the weekend. We didn't have a lot of money back then so we stayed in a really cheap B&B and ate the cheapest food we could find, but we still had an amazing time. The highlight of the trip was when we went to the Eiffel Tower. We couldn't afford to pay to go up to see the view from the top, but that didn't matter when Matthew got down on one knee and proposed right in front of it. It was evening and the lights were twinkling everywhere and it was the most beautiful experience of my life!
For our tenth wedding anniversary, Matthew suggested that we went back to Paris to recreate that special holiday. Well, we wouldn't be recreating every single element of it. This time, we'd be staying in a nice hotel and eating out in nice restaurants! I was absolutely delighted! My sister agreed to look after the kids for the weekend and we jetted off for our much needed romantic break.
---
See Also