Hi everyone! Welcome to my blog! I'll tell you a little bit about myself so you can get to know me better. I'm Jennifer Sharpe, and I was born in 1985, which makes me 32 at the time of writing this. I'm a crafter, blogger and writer. I love to make gifts and give them to my family. I think it's original and personal at the same time. You can also have a look at these ideas for a gift too. In the last few years since the kids have come along I've spent a lot of time seeking out parenting blogs and reading about other women's experiences of motherhood. The more of them I read, the more I thought that it was something I'd like to try too, so I decided to start this blog to share my ideas about parenting and to share my experiences of being a Mum.
---
Pregnancy Clothes
I am so glad that I wasn't pregnant back in the 1980s! I was looking at some photos of my mum when she was expecting me and I was just appalled by the hideous maternity wear she had to put up with. Honestly, I don't know how women managed back then! On every photo, she was wearing one awful outfit after another. Dresses that looked like tablecloths, enormous dungarees and really unflattering skirts and tops. They must have been designed by a man!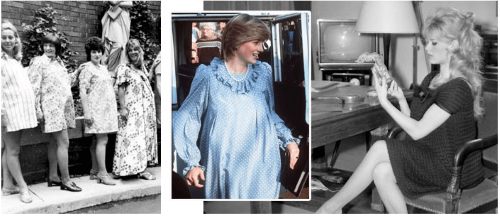 Third Time Around
It made me feel really lucky that pregnant women today have so many great choices when it comes to maternity wear. Whether we shop online or whether we go out to local shops, we can easily find something to suit every occasion. From casual jeans and t-shirts to smart office wear, and even evening dresses for going somewhere special, I just need to browse the internet or wander down to the high street and I can find something that flatters and fits without looking like I'm wearing a tent!
Now that I'm having my third baby, I've found that I started showing much sooner than I did with my first. When I was pregnant with Spencer, I didn't show at all until 7 months, and everyone was really surprised when I told them I was expecting. I could wear my own clothes right up until the last few weeks when I was having him, but things were a little different when I was having Jessica. I had to start wearing maternity wear at about 23 weeks and by the time she was delivered, I was the size of a small house!
---
More from Fashion
---
Food Allergies
"I said something which gave you to think I hated cats. But gad, sir, I am one of the most fanatical cat lovers in the business. If you hate them, I may learn to hate you. If your allergies hate them, I will tolerate the situation to the best of my ability."
Raymond Chandler
It's amazing how many children seem to have food allergies these days. When I was growing up, I didn't know anyone who couldn't eat particular foods, and yet now almost every family I know has a child who has to avoid one food or another. That makes it pretty difficult when you're inviting your child's friends over for tea or when you're catering for a kids party.
Spencer's milk allergy
I know first hand how difficult it is to have a child with a food allergy. My eldest, Spencer, has a milk allergy and has to avoid dairy products. That's pretty challenging for our routine life, since milk and butter seem to be in everything! At home, we use soya milk and vegetable-based spreads and thanks to all the wonderful product ranges in supermarkets these days we have plenty of choice. Spencer doesn't miss out on any treats because we can get non-dairy versions these days, including chocolate, yoghurts and ice cream, but when we go out or when he goes to a friend's house, we have to be really careful about what he can have.
Jessica's nut allergy
Just to complicate matters even more, Jessica has recently been diagnosed with having a nut allergy. She had a bad reaction to some peanut butter that we gave her a few weeks ago. So we ended up having to rush her to A&E. We don't know quite yet whether it's all nuts or just peanuts, but we've been told to avoid them all for now. Well, you wouldn't believe how many foods have hidden nuts! All in all, our entire family diet has had to have a complete overhaul!
---
You May Also Like
---
Recreating Our Proposal
For my 20th birthday, Matthew had taken me to Paris for the weekend. We didn't have a lot of money back then so we stayed in a really cheap B&B and ate the cheapest food we could find, but we still had an amazing time. The highlight of the trip was when we went to the Eiffel Tower. We couldn't afford to pay to go up to see the view from the top, but that didn't matter when Matthew got down on one knee and proposed right in front of it. It was evening and the lights were twinkling everywhere and it was the most beautiful experience of my life!
For our tenth wedding anniversary, Matthew suggested that we went back to Paris to recreate that special holiday. Well, we wouldn't be recreating every single element of it. This time, we'd be staying in a nice hotel and eating out in nice restaurants! I was absolutely delighted! My sister agreed to look after the kids for the weekend and we jetted off for our much needed romantic break.
---
See also